Convertibles rental Barcelona
Enjoy one of the models of our Barcelona convertible rentalservice.
The pleasure of getting lost on the
roads
Hearing the engine. Feeling the wind.
Feeling of freedom.
What are you in the mood for driving fun today? A stylish convertible, sporty or classic?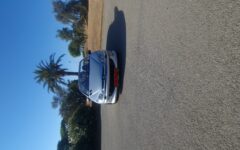 Class: Convertible cars
Gearbox: Automatic
Max passengers: 4
Fuel: Gasolina
Features
ABS
Air conditioning
Central locking system
Trip computer
Deposit
500.00 EUR
Mileage
100 Km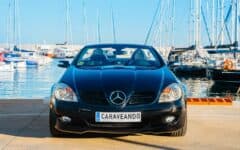 Class: Convertible cars
Gearbox: Manual
Max passengers: 2
Fuel: Gasolina
Fuel usage:
6.5/100km economy
Features
ABS
Airbags
Air conditioning
Front armrests
Hill-start assistance
Cámara trasera
Central locking system
Bluetooth
USB connections
Stability control (ESP)
Traction control (ASR)
Speed control
Multifunction steering wheel controls
Trip computer
Surround Sound System Burmester®
Deposit
700.00 EUR
Mileage
100 Km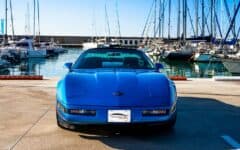 Class: Convertible cars
Gearbox: Automatic
Max passengers: 2
Fuel: Gasolina
Fuel usage:
9.6l/100km economy
Features
ABS
Airbags
Front armrests
Sport front seats
Central locking system
Stability control (ESP)
Tyre pressure monitoring
Speed control
Fog lights
Trip computer
Deposit
3,000.00 EUR
Mileage
50 Km
Our convertible rental service Barcelona has three very different vehicles.
Because we all have our own style.
Atletico. Elegant. Vintage.
And we don't always drive the same way.
Relax. Agile. Sports.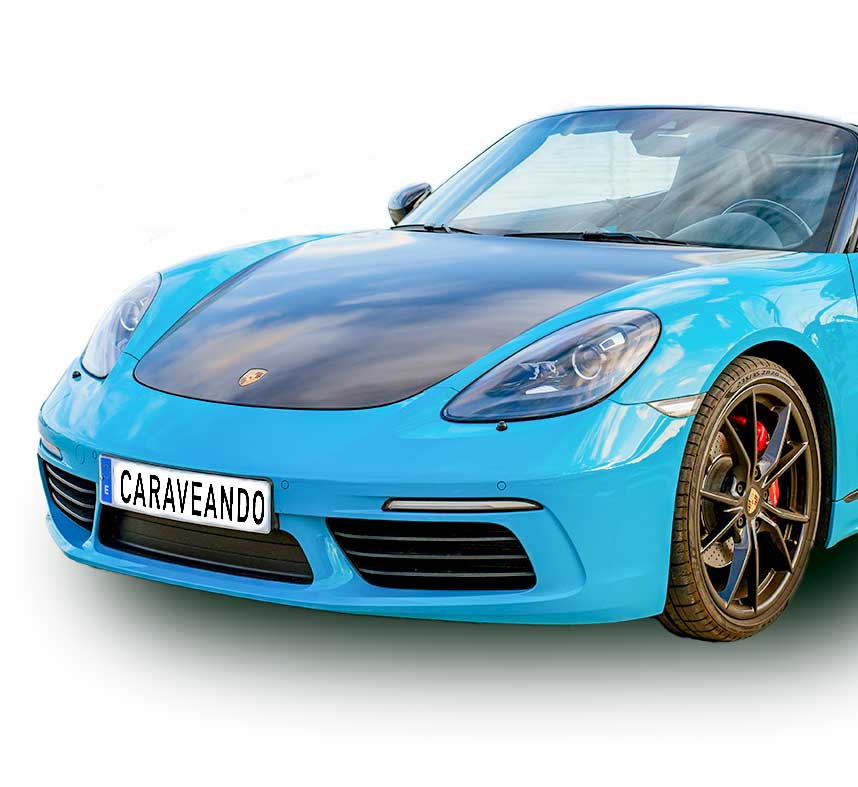 Chevrolet Corvette C4 Targa
An iconic muscle car.
A retro sports car with retractable headlights. With precise gear shifting. Only for drivers who know how to find the balance between strength and sweetness.
Driving it is like going back in time. Or like getting into a James Bond movie. You feel the thrill of being at the wheel of a myth on wheels that also makes you the focus of attention.
If you are looking for a retro experience with a sporty soul, this is your two-seater convertible.
Mercedes 200SLK
A convertible for the whole year.
Spring. Summer. Autumn. And even winter.
It has an air deflector, anti-current system and heated seats and headrests.
In addition, it is the fusion between elegance and sportiness. You can drive it in quiet mode. And, when you feel like it, you can indulge your sporting spirit by enjoying its grip in the curves.
It is a two-seater convertible with a lot of
sex appeal
.
Porsche 718 Boxter S
(currently not available)
An avalanche of sensations.
Fun. Robust. Dynamic. Double exhaust outlet. Deep and coarse sound. 360mm Sport steering wheel with perfect feel. Turbocharged four-cylinder engine that consumes less and is more efficient. Fun guaranteed.
The 718 is a roadster that pays homage to the legendary Porsche 718 that won the 1958 24 Hours of Le Mans.
Escape the monotony.
Enjoy this two-seater with our convertible rental service Barcelona.
Why choose our convertible rental Barcelona service to enjoy the road?
You gain flexibility
Tell us where and we will deliver or pick it up.
Wherever it is: at the hotel, at the company or at a friend's house (if it is at the airport, it is free of charge).
You get speed
100% digital process.
Enter your data and upload the documentation when you make the reservation. Check the vehicle with us while we take pictures. We will send you a copy of everything by email.
You receive personalized attention
24/7 customer service.
To solve any problems that may arise during your car rental.
Our convertible rental service Barcelona with no queues, no paperwork and no surprises, will make you spend an amazing day with the car of your dreams.
You will want to repeat.
What makes us different from other convertible rental companies in Barcelona?
Caraveando was created by a mechanic of Polish nationality and German by adoption. He wanted to share his passion for cars. I wanted to offer reliable vehicles that were a pleasure to drive.
That's why he founded this small company that provides a great service. To provide you with the best rental experience possible with their honesty and transparency.
This is also the reason why we work with a reduced fleet. To offer you vehicles in optimal conditions. Checked by an official workshop and thoroughly cleaned with ozone.
This is what our customers say about the convertible rental service Barcelona.
Nertila

---
I rent the car for work and vacation. They always deliver the cars in good and clean condition and I know the price I am going to pay from the beginning. I will continue to rely on Caraveando for car rental.
Maria

---
I needed to rent a car because mine was broken down and I chose Caraveando because it was close by and because the price was attractive.
At the beginning it was going to be for a short period of time but in the end I had to extend it several times and everything went smoothly. Sometimes I picked up the car at their offices, sometimes they brought it to me, that is, they adapted to my needs.
If I ever need to rent a car again, I would do it with them without hesitation.
Izan

---
I needed a car to go skiing with some friends and I chose Caraveando mainly because of the price. The rental went very well so next time I want to rent a car I will keep you in mind.
In addition, with our convertibles, you will be able to turn a special date into an unforgettable day.
Imagine that
Make a grand entrance on your wedding day.
Surprise your partner by picking her up for dinner.
Take your father for a walk on his birthday.
If you use our convertible rental service Barcelona, you will be giving unique memories.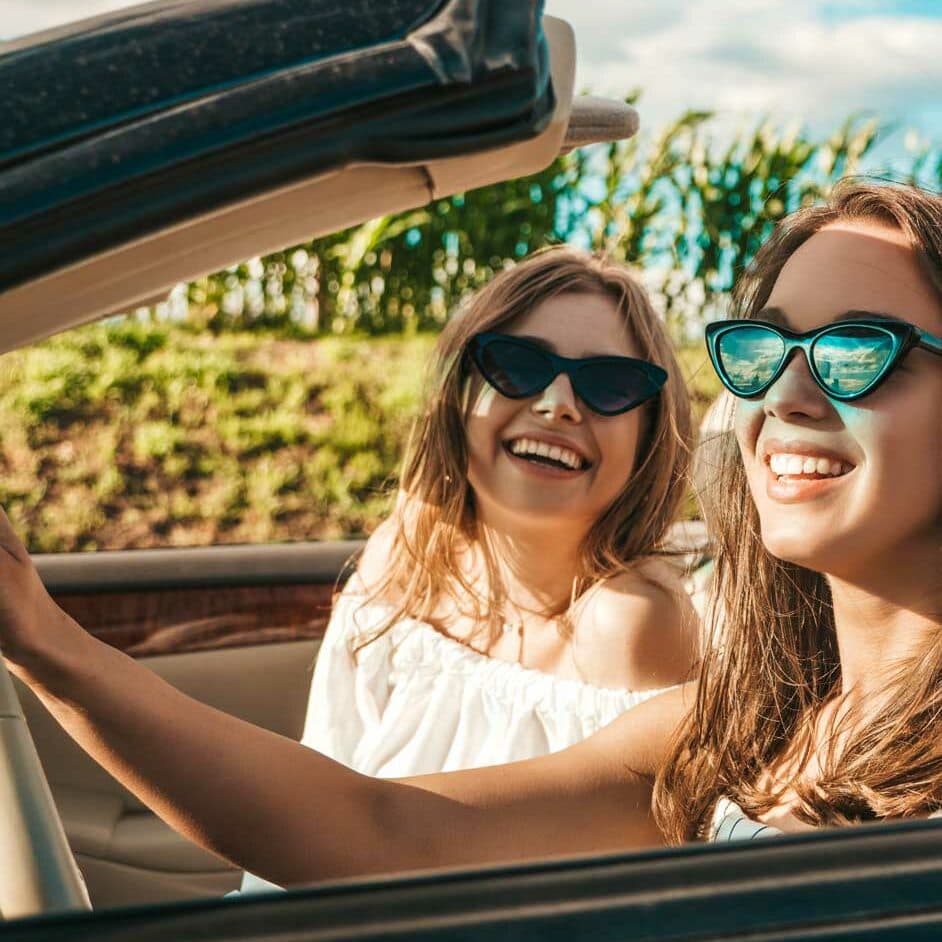 Ready to have fun behind the wheel of a convertible in Barcelona?
You, the car and the empty road.