Cheap car rental in Barcelona
The car you need at a
price you like
You are looking for a car for your vacations, a getaway or your daily life.
And make it cheap.
We have several models in our cheap car rental service in Barcelona. Each with unique characteristics. Choose the one that best suits your needs.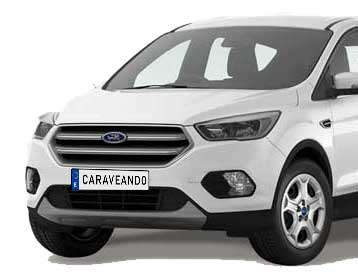 Ford Kuga
A minivan with the look of an SUV.
Sure. Large. Polyvalent.
It has great equipment that helps you avoid accidents and not lose control. Blind spot information system, emergency braking assistance and traction control system among others.
In addition, plenty of legroom, a considerable interior height and 475 liters of trunk. As if that wasn't enough, the rear seats slide. This allows to increase the capacity of the trunk or to provide more space for the passengers.
It also stands out for its good behavior on the road. And for having equipment that facilitates driving in the city. For example, Hill Start Assist and Parking Reverse Assist.
If you are looking for a safe and spacious car to travel with the family, this is your SUV.
Mercedes E320 Family Class
A family car for the price of a city car
Do you need a spacious, comfortable and reliable car that is also economical?
With this legendary E320-Class model, Mercedes offered luxury along with the largest luggage compartment on the market.
Equipped with a V6 diesel engine up to 204 hp, a classic and luxurious interior typical of Mercedes, the E320 Avantgarde is a fast and pleasant car to drive, which has a formidable load capacity.
The automatic transmission and self-adjusting rear suspension ensure an unmatched level of safety and performance.
Only with Caraveando you can rent a cheap car with these characteristics.
All in all, the E320 Avantgarde is an amazing family car.
Volkswagen Golf
Universal and unmistakable.
With the Golf, Volkswagen has broken records and become a legend.
It is a simple and comfortable car with an unmistakable and elegant design.
The best thing about our Golf is undoubtedly its price/comfort ratio.
You will get a car spacious enough for a family of five looking for a rental car.
But its compact format makes it perfect for getting around the streets of Barcelona.
The Golf will always be the right car for everyone and for every occasion.
Imagine what it would be like to have our cheap car rental service in Barcelona.
You save money
Without implying having a less reliable vehicle or a less correct service.
You enjoy more space
Inside and for suitcases. So everyone is comfortable.
you travel safe
With a vehicle equipped with assistance for driving.
In short: your vacations, getaways or trips become more pleasant with our cheap car rental service in Barcelona .
What differentiates us from other cheap car rental companies in Barcelona?
Caraveando was created by a mechanic of Polish nationality and German by adoption. He wanted to offer reliable vehicles that were a pleasure to drive.
That is why the company remains small and the fleet reduced. To ensure that both customers and cars are taken care of.
We want you to be delighted with your car rental experience.
You can contact us for a personalized quote, we are very close to you, we go wherever you want.
How is our cheap car rental service in Barcelona ?
100% digital
No papers.
Upload your documentation when you book. Thus, at collection, we will only verify the originals.
With photos of the car and the fuel tank .
That we attach in the exit and entry document of the vehicle.
You get speed.
Comfortable
24/7 customer service.
To solve any problem you may have during the car rental.
Free delivery at the airport.
Call us as soon as you land and we'll see you in less than 15 minutes at the agreed point.
You gain peace of mind.
Reliable
No small print.
We explain the price in detail so that you know step by step how much you are going to pay.
Cars in optimal conditions.
The vehicles are periodically checked and sanitized with ozone after each rental.
You avoid surprises.
With our cheap car rental service in Barcelona you will save stress, time and money.
What do customers think of our cheap car rental service in Barcelona?
Thomas

---
I have been renting with Caraveando for three years. They are the cheapest, most reliable and always make sure I have the car I want in perfect condition. Also, they are very friendly.
Miguel Angel

---
I always opt for Caraveando even though they are 70km away because they have very good prices. I would highlight the kindness and punctuality when delivering the vehicle. They have always treated me very well.
David

---
I usually rent vehicles with Caraveando both for vacations and daily and they always behave very well with me. Their prices seem good to me and they also decontaminate the cars with ozone and deliver them checked and clean. Come on I recommend it.