alquilar-Dacia-Jogger-7Plazas
Mercedes-E350-AMG for rent
Chevrolet-Corvette-C4 for rent
Save waiting and travel time. Tell us where and we will bring the vehicle to you.
If you want to rent a car and you are looking for a comfortable service that allows you to enjoy your vehicle from the first minute,
Caraveando

is your car rental company in Barcelona.
What type of vehicle do you want to rent?
In fact, even the booking process is fast.
---
See for yourself.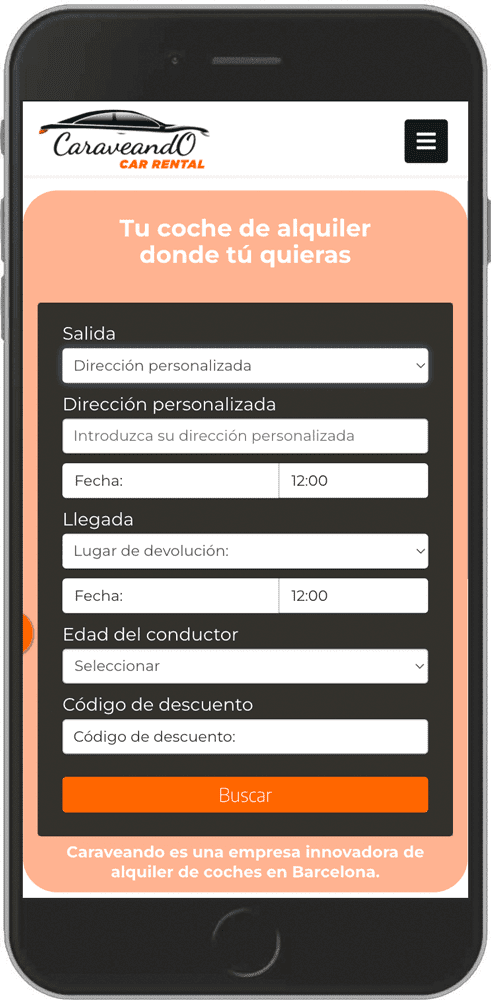 Encuentra tu coche
Choose the vehicle you want to drive.
Resérvalo
Make sure it is available on the days you need it.
Recíbelo
We'll bring it to you or you can pick it up. It depends on what you have chosen.
Vive tu experiencia
Enjoy the road with a vehicle in optimal conditions.
Devuelve el coche
We pick it up wherever you want or you bring it to our office. As indicated in the reservation.
We make your car rental experience in Barcelona a success.
<!== Mobile View ==>
Todo claro desde el principio

Te explicamos en detalle el precio. Para evitar sorpresas que amarguen tu experiencia de alquiler.

Entrega y devolución personalizada

Te llevamos el vehículo al hotel, a la estación, a la oficina, a tu casa, al puerto o al aeropuerto. Te ahorramos tiempo.

Revisión detallada.

Sacamos fotos del vehículo en la entrega y en la recogida. Del coche y el depósito de combustible. Y te enviamos una copia. Evitamos los malentendidos.

Servicio al cliente 24/7

Atendemos los problemas que puedan surgirte durante el alquiler de coche Barcelona. Dispones de asistencia en cualquier momento.

Tarjeta de crédito o débito

Te damos la opción de pagar la fianza con cualquiera de las dos.
Nos adaptamos a ti.
Move the mouse over the icons
100% digital process
No queues and no paperwork. Just check with us the vehicle and the fuel level.
You want speed!
And we make your Barcelona car rental experience amazing.
Everything clear from the beginning
We explain the price in detail. To avoid surprises that will sour your rental experience.
100% digital process
No queues and no paperwork. Just check with us the vehicle and the fuel level. You want speed.
Detailed vehicle overhaul
We took pictures at delivery and pick-up. Of the car and the fuel tank. And we send you a copy. We avoid misunderstandings.
24/7 customer service
We take care of any problems that may arise during your car rental in Barcelona. Assistance is available at any time.
Credit or debit card
We give you the option of paying the deposit with either one. We adapt to you.
Personalized delivery and return
We take the vehicle to your hotel, station, office, home, port or airport. We save you time.
Caraveando was founded by a mechanic who wanted to share his passion for cars.
A Polish-German who decided to create a company to offer vehicles that are a pleasure to drive.
Today, that small Barcelona car rental company continues to grow. It is gradually increasing its fleet. Add vehicles that offer different driving experiences. So that every customer can find a vehicle with which they can identify.
Because at Caraveando we know that you don't always want or need the same type of car.
With us you will feel like you have rented a vehicle just out of the factory.
We take all cars to official garages for periodic inspections.
And we clean them thoroughly with ozone after every rental.
In other words, we make sure that they are in impeccable condition.
So that nothing detracts from the driving experience.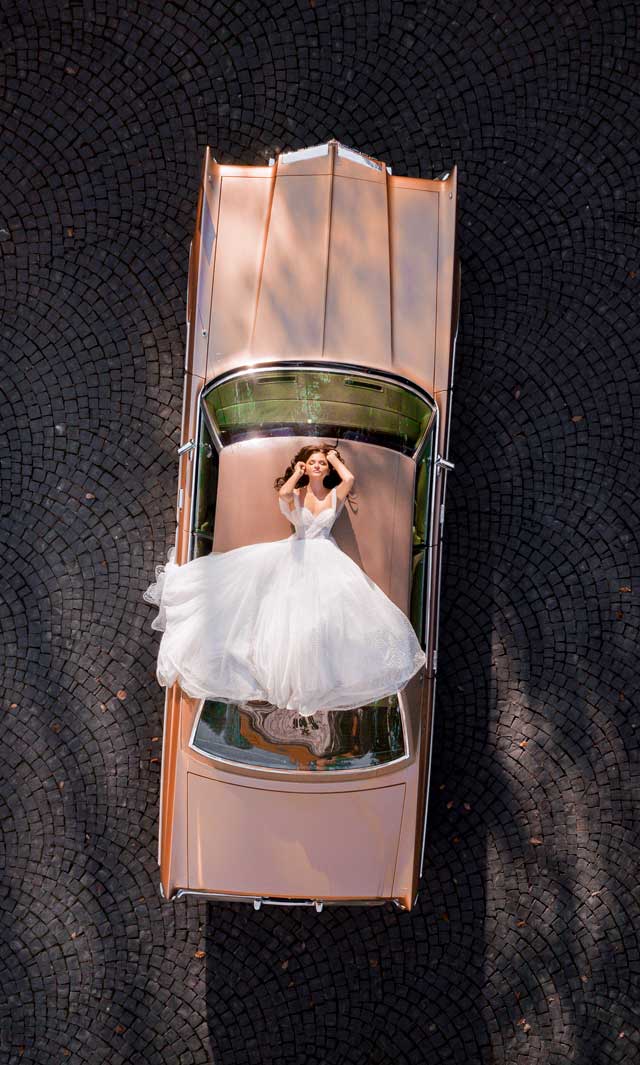 In addition, we can offer you services that turn a special day into a unique one.
For Weddings
Let it be the icing on the cake. Because you only get married once and you want to do it in a stunning car.
For Events
May it make the day memorable.
Because you want your father's birthday, a romantic dinner or, if you are a company, a product launch, to be unforgettable.
For Advertising and TV
What a view of your shooting.
Because it brings elegance and style and makes your photos or sequences come to life.
With our Barcelona car rental, all you have to do is choose a vehicle to make your day a success.
What do customers say about our car rental service in Barcelona?
Raf

---
I use Caraveando when I need to rent a car for vacation or for work because the service they offer is very good. They always bring the car to me where I am and deliver the vehicles in perfect condition and clean.
Colin

---
I contacted Caraveando because I needed a car for my vacation and they were the closest to my hotel. They were very accommodating and made my experience a smooth one.
Sunday

---
I needed to rent a vehicle for work purposes for a year and I chose Caraveando first because of the facilities they gave me and then because of the confidence they gave me. So, if I needed to rent a car again I would talk to them again.
What are you waiting for to gain speed and comfort in your next car rental Barcelona?