I was looking for a car rental near me …
Caraveando brings it directly to me

Wherever I am.
alquilar-Dacia-Jogger-7Plazas
Mercedes-E350-AMG for rent
Chevrolet-Corvette-C4 for rent
That's right, Caraveando delivers your rental car wherever you are, in Barcelona and throughout Catalonia.
Caraveando is an innovative company that offers a personalized "car rental near me" service:
You choose where you want to receive the vehicle.
Caraveando delivers it to the place, day and time you indicate at the time of booking.
You can also choose the address where you want to return the vehicle.
If you are looking for a rental car near you, with Caraveando you can do without traveling by taxi or bus to the car rental company.
You can say goodbye to boring queues at offices.
The process of booking, documentation and payment of your rental is done completely online.
With Caraveando you can book your rental car simply from your smartphone, at any time and anywhere.
You only have to choose the addresses, dates and times of delivery and return. And, logically, you will also have to choose one of the available vehicles.
Caraveando will deliver the vehicle to you in front of your house, or your store, your office, in front of your hotel, or a restaurant. In short, very close to you.
And in JUST 3 MINUTES you will already be behind the wheel of the rental car of your choice: economical, spacious, classic, premium, convertible.
Caraveando offers you different vehicle models, each one with its particularities, always guaranteeing the best value for money.
Because cars are our passion.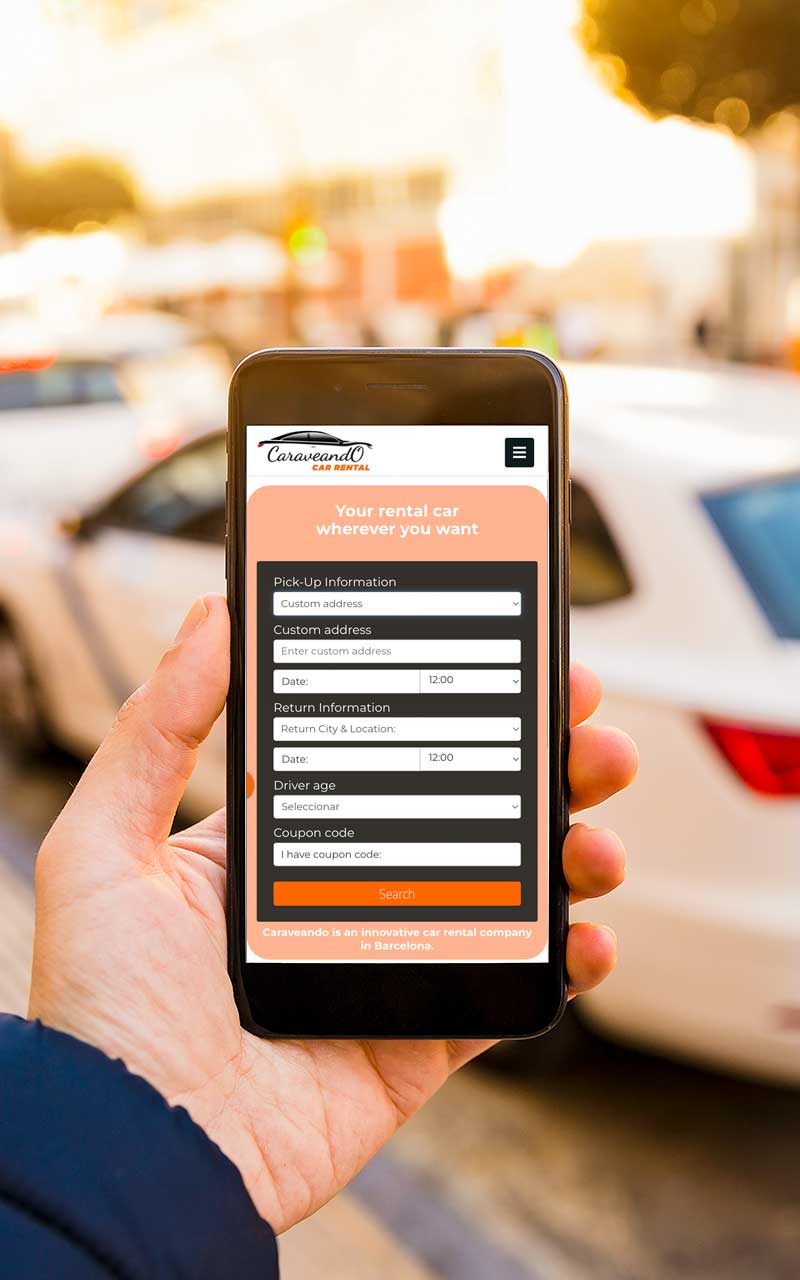 TELL US WHERE and WE WILL BRING YOU THE VEHICLE
Enjoy a personalized service with special delivery
We are the fastest in vehicle delivery!
Find out how our car rental service works near me
In the booking form, choose "custom address" from the options available in the "Pickup location" and "Drop off location" fields.
Enter the fields that appear immediately below and then select in each one the personalized address that the system suggests.
The address can be the same for both collection and return.
But remember that you can also choose two different addresses: for example, you can pick up the vehicle in front of your hotel in Barcelona and decide to return it on the Costa Brava, or at Barcelona airport , or at any other address you prefer.
Choose the dates and time of delivery and return.
Enter the age of the driver and any coupon code.
Click Search.
On the new page you can choose one of the vehicles available for the dates you have chosen.
Our platform automatically calculates the cost of the personalized delivery service, based on the distance from our Castelldefels office (the first 5 km are free) and the selected vehicle.
Next, you will have to enter the details of the driver, if you wish you can add the extras, and finally make the payment as in a normal reservation with collection of the vehicle at one of our offices.
You will receive a digital contract by email, which you can sign directly from your smartphone.
No paperwork.
On the day of delivery, you will only have to be at the address you indicated at the time you chose.
And in three minutes you will be on board your rental car.
Very easy, right?
And above all, our car rental service near me is the most comfortable in all of Catalonia!
Those looking for a rental car have specific needs in terms of load capacity, price, exclusivity of a vehicle, etc.
For this reason, Caraveando satisfies the needs of its customers with a fleet of extraordinary vehicles, which combine certain characteristics that you will hardly find in other car rental companies.
For example, are you looking for a family car with 7 seats or with an incredible cargo capacity, at an affordable price?
We have the vehicle for you!
With Caraveando you can rent a 7-seater Mercedes Family for only €25 a day .
Or are you looking for a convertible car?
We have cheap, premium or classic convertibles.
Or do you want to have fun driving a sports car or show off a high-end one?
Choose your favorite between Audi, BMW or Mercedes.
Rent a car near you, quickly and easily with Caraveando.
Who are the typical clients of Caraveando who rent a car with home delivery?
Our most satisfied customers are usually:
Professionals on business trips .
They are customers who call us for the exclusivity and above all for the speed of our car delivery service, together with the variety of our fleet. They usually prefer to pick up their vehicle directly on arrival at the airport, but it often happens that they prefer to pick it up the next day, in front of the hotel they have chosen.
People who live in Barcelona or its surroundings .
They are people who use the car sporadically: they have realized that the purchase of a vehicle entails operating costs that are often unsustainable (rental of a garage, insurance, taxes, etc.). They decide to call us when they need a personal vehicle with which to move freely, alone or with the family. Thus, they have the possibility of choosing the vehicle that best suits their needs in each case, with the advantage of having it delivered directly to their doorstep.
Tourists who choose Barcelona and Catalonia for their vacations .
Regardless of the means by which they arrive in Spain (plane, ship, train or private boat), they decide to rent a car for day trips or to satisfy their mobility needs. For example, we often deliver our vehicles directly to the docks where customers moor their boats.
People who plan a route that does not include the return to the starting point .
They choose where to pick up the rental car close to where they are at the moment and then decide to end their trip elsewhere.
But our car rental service near me is for anyone looking for an exclusive service that doesn't waste their time.
With Caraveando you will be assured of receiving flexibility and professionalism.
Frequently asked questions about our car rental service near me with personalized delivery.
Does the home delivery service for car rental near me have a cost?
When booking, the platform will automatically calculate the additional costs based on the address entered in the form field. The first 5 km from our office in Castelldefels are free.
Can I return the car to a place other than the collection point?
Of course. With Caraveando there are no location limits: you can return the vehicle wherever you want.
Our delivery and collection service to personalized addresses is specially designed for clients with these requirements.
When reserving your vehicle, you can indicate your personalized addresses.
Personalized delivery and collection is always free within a radius of 5 km from our headquarters in Castelldefels.
Our platform will automatically determine the cost of excess kilometers and you will know from the beginning the additional cost of our personalized service, without surprises.
For more general questions about our car rental service, see our
FAQ
page.
TRY CUSTOM DELIVERY
We offer you the closest car rental service to you
You won't be able to do without it!
This is what those who have already used our car rental service near me think.
Raf

---
I use Caraveando when I need to rent a car for vacation or for work because the service they offer is very good. They always bring the car to me where I am and deliver the vehicles in perfect condition and clean.
Fisher

---
We rented a Mercedes, to travel around Spain, with Caraveando for the delivery and pick-up service.
The experience was very good: we had zero problems, it was easy to book and they were friendly and helpful.
In fact, I have already recommended it to all my friends who plan to visit Spain.
Miguel Angel

---
I always opt for Caraveando even though they are 70km away because they have very good prices. I would highlight the kindness and punctuality when delivering the vehicle. They have always treated me very well.
Are you ready to discover a new car rental experience through personalized delivery?